Shine Residences - LOCATION
Shine Residences Is Located at Meralco Ave,Barrio Ugong, Pasig City.
Given the busy life today, you want a home that is conveniently located to avoid unnecessary hustle. Also, you want a home that is within a secure locale. You will be impressed to learn that Shine residences provide the best combination of lavishness and convenience, and located right at the heart of the lively Ortigas Center. It is situated in the proximity of the prominent Renaissance Center along Meralco Avenue. It is within the second largest financial and business district in Manila. This particular development is just a few minutes away from shopping malls as well as other already established career hubs. It simply brings convenience and accessibility right within your locale. It is safe to say that this is the perfect place for the businesspersons, young professionals, families as well as students. If you have a home here, you can view the city's skyline highlights right from the comfort of your home. As you can see, you can choose a home that suits your tastes and preferences whether you are living individually or have a family. Well, Shine residences is ready for tenure; so you now have the opportunity to own a home in this prominent residential neighborhood famously known as renaissance Center.

When you are settling in a place, you will need to know the establishments such as education institutions, health institutions, commercial centers, hotels, financial institutions, places of worship among others. This is because you do not want to travel for long distances looking for these facilities. You will need a place that is convenient for you in all aspects. You find that many people just settle for less than they deserve or they just do not pay attention to the surrounding. This way you find that they have to travel to far off places for their shopping, medical care, education among others. At Shine residences, everything is within your reach and this is why you will need to buy a home here; you can never go wrong with Shine Residences. It offers an opportunity to achieve and maintain work-life balance.

This particular development is located in the vicinity of numerous establishments including commercial centers, schools, hotels, major hospitals and places of worship. When you get a home within this community, you will be neighbors with SM Megmall. So you will only have to walk a few yards for all your shopping needs. This spectacular establishment is one stop shop with everything under one roof. If you are big on fashion, you will be happy to learn that you can get all the labels here. The property is also next to The podium as well as Shangri-la Plaza Mall where you could shop too. With these commercial centers within your vicinity, you can be sure that your shopping will not be a problem at any given time. Who wouldn't want to have such convenience? Entertainment is also a very important part of life and you will also need to know the entertainment hubs available around your place of residence. Well, you can enjoy fine dining at one of the dining joints at Metrowalk as well as Ortigas Home Depot. Anytime you feel like treating yourself or your family to fine dining, you will not have to worry about the place since it is within your reach. As it is, living at this particular development is not only convenient, but also elegant. Robinson's Galleria is also within the vicinity of this spectacular development. Basically, this is one of the perfect places you could get a home that is suitable, convenient and chic. Buy a home at Shine Residences and you will be the envy of your friends.

You will also want to learn everything about the hotels available around you; you might need the services at some point. The hotels within this development are nothing but elegant, affordable and right next to your home. If you ever have the urge of treating your family to a five – star experience, then you will be spoilt of choice. You can choose EDSA Shangri – la Hotel which is just a few munities' drive away from the property. On the days that you spend at home with family or alone, you could go and grab your favorite dish at Holiday Inn Hotel. If you prefer suites, you have not been left out. You can always visit Discovery suites with family and friends and have a memorable time. You also have the liberty to choose Oakwood Premiere Suites which is an international brand. Not many people are lucky enough to enjoy such facilities within the comfort of their homes. This is exactly why you must not let the chance of owning a home at this particular residence pass you.

The other institutions you will want to know about within your locale are schools. This is very important and especially to students and the people who are growing a family. You will want the most convenient location where education institutions are readily available. You do not want your children to go to school away from home. You also want a place with a variety of schools. This way, you can pick the best and most suitable for your child. If you decide to settle at this development, then you will have a wide range of education institutions from which to choose. The institutions around here are some of the best there is in the region. University of Asia and the Pacific (UA&P) is just within the vicinity. So your child can choose to study here and be certain that they will land a good job in the future. The other institution within the surrounding is the Anteneo de Manila School of Medicine & public Health. If you are a student and wish to pursue medicine, then you do not have to go looking for a school that offers medicine. You have it right within your place of residence. As you can see, this property is ideal for everyone. You will not find many places with such convenience. So why not get a place here and you will have everything you need to lead a stress-free life. La Salle Greenhills, Saint Poveda College is also within the proximity of this particular development. The other education institution near the property is Lourdes School of Mandaluyong; another school that offers quality education. St. Paul's College Pasig is the other education institution in which you could choose to study. As you can see, if you are a student looking to settle in a place convenient for your education needs; you do not have to look further than Shire Residences.

The other thing that would interest you is the health institutions close to the development. Medical care is a basic need and you want to settle in a place where these services are readily available. When you are a resident within this community, you have access to major hospitals such as Medical City which offers the best medical care in the region. You could also choose to have your health issues addressed at Cardinal Santos, which also provides exceptional medical services. As it is, this would be the perfect place to settle for you. You will also be happy to learn that your financial needs are covered as well. You will find financial institutions such as Asian Development Bank within the development. So if you ever need these services, you do not have to look far since you can find them just around the corner. If you are big on stock exchange, you will be impressed to know that Philippine Stock Exchange (Tektite) is just a short distance from your home. Anytime you need information on stock exchange, you can always check in at Tektite. With all the facilities around you, your life is made much easier.

The other factor you might want to consider before you can settle somewhere is the places of worship available. This is very important for you since you have the chance of getting in touch with your spiritual side. There are several places of worship within this particular development some of which include; Our Lady of EDSA Shrine, Greenhills Christian Fellowship, St. Francis of Assisi Church and Christ Commission Fellowship. As you can see, your religion needs are addressed when you are a resident at Shine Residences. This is another reason you need to get a home here.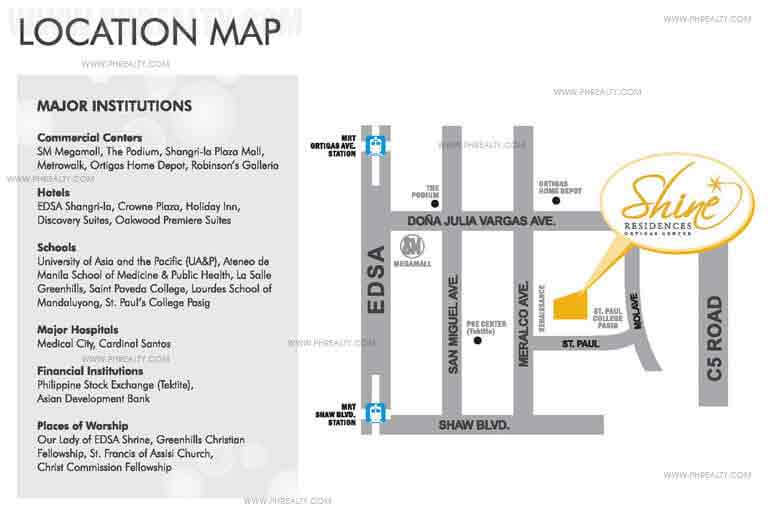 Located primarily at the Renaissance Center in Ortigas Central Business District, this development is mere minutes away from shopping malls and other established career hubs in Ortigas Center.
It is near malls like SM Megamall, The Podium, and Shangri-la Plaza Mall. You can enjoy multiple entertainment hubs and dining strips in Metrowalk and Ortigas Home Depot. Being neighbors to several Hotels like Shangri-la, Crowne Plaza, Holiday Inn and Discovery Suites is another anemity provided by this place.
Students studying in University of Asia and the Pacific (UA&P), Ateneo de Manila School of Medicine & Public Health, La Salle Greenhills, Saint Poveda College, Lourdes School of Mandaluyong and St. Paul's College Pasig can easily access their colleges.
As you live in peace and comfort of your home in Shine Residences, we also provide 5 ace amenities that will surely meet your lifestyle and needs. Relaxation at its best in the swimming pool, have fun with your friends and relatives in Chillscape Lounge, hold parties and events in Function Rooms and selected areas have WIFI access as well.
Today, landing your dream home is challenging given the crowded real estate market. For this reason, you need to have your priorities right otherwise you might not be very lucky in getting your dream home. For you to achieve your goal, you will need to be vigilant since you will come across very many platforms with all sorts of information. You will need to know what you want in your home so that you can choose the best home for you and your family. In this day and age, life is very busy and you have very many things to take care of; this is why you will need a home that is convenient for you. You want a home that is within a locale where you can access everything you need and not forgetting elegant. Technology has evolved over the years and you cannot afford to live in a place that doesn't have the latest technology. You will also need to learn that developers are up to date as well and are putting up modern residences. However, these residences are still different given that some are better than others. This means that you should not assume they offer or provide similar facilities or amenities. You will need to be very keen during your search for a home. Simply, you will want a home that serves your needs and those of your family. SMDC's outstanding developments ensure that you get just what you have been looking for at an affordable price. If you are tired of looking for a good home, then you have not tried the Shine Residences. This is another glorious project from SMDC developers. Do not waste any more time looking in the wrong places and visit this development.